Diagram types with the ggplot2 package
Install required packages
ggplot2, ggbeeswarm, cowplot, patchwork
Simulate data
Diagram types
Scatterplot
Line plot
group=TRUE is necessary here
    group   mood
1 control  82.33
2 placebo  96.75
3  treatA 114.93
4  treatB 107.89
    group   mood
1 control  82.33
2 placebo  96.75
3  treatA 114.93
4  treatB 107.89
Barplot
Absolute frequencies
Relative frequencies
Histogram
Absolute frequencies
Density with nonparametric kernel density estimator
Boxplot
Add a geom_beeswarm() layer to show raw data.
Q-Q plot
Against normal distribution
Against pre-specified distribution (here: t)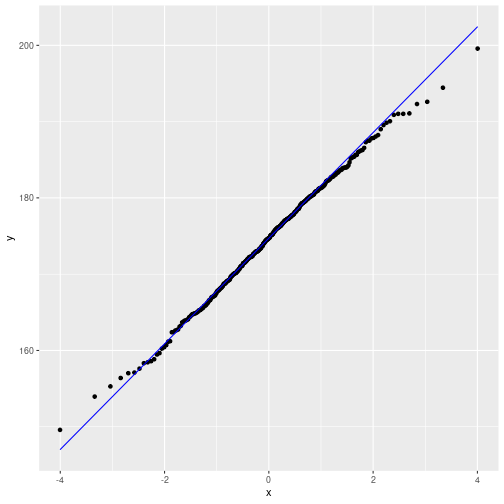 Compare quantiles of two variables
Multi-panel plots
Split the diagram into panels by column using facet_grid().
Split the diagram into matrix of panels using facet_wrap(). Option scales="free_y" produces separate y-axis for each panel.
Additional diagram elements
Add error bars
Error in fix.by(by.x, x): 'by' must specify a uniquely valid column
Error in merge(groupMSD, groupN, by = c("sex", "group")): object 'groupMSD' not found
Error in transform(groupMSDN, SEMlo = mood.M - mood.SD/sqrt(Freq), SEMup = mood.M + : object 'groupMSDN' not found
Error in ggplot(groupMSDN, aes(x = group, y = mood.M, ymin = SEMlo, ymax = SEMup, : object 'groupMSDN' not found
geom_hline() for a horizontal line
geom_vline() for a vertical line
geom_smooth() for a regression line including SEs
geom_text() for text from a variable
ggtitle() for a diagram title
annotate() for text given directly as an argument
Put different plots on the same page
Using package cowplot
Using package patchwork
Save ggplot2 diagrams to file
Graphics file format is determined from file ending.
Further online resources
See Cookbook for R: ggplot2 diagrams for many detailed examples of ggplot2 diagrams.
Detach (automatically) loaded packages (if possible)
Get the article source from GitHub
R markdown - markdown - R code - all posts