Convex hull, (minimum) bounding box, minimum enclosing ellipse, and minimum enclosing circle
Convex hull
chull() returns the ordered indices of the matrix rows corresponding to corners of the convex hull.
[1] 3 6 9 8 4
Bounding box
[1] 2516.849
Minimum bounding box
Rotating calipers algorithm
Draw the minimum bounding box
[1] 2127.255
Minimum enclosing ellipse
Kachiyan's algorithm
Adapted from Matlab code by Jacob on Stack Overflow.
Draw the minimum enclosing ellipse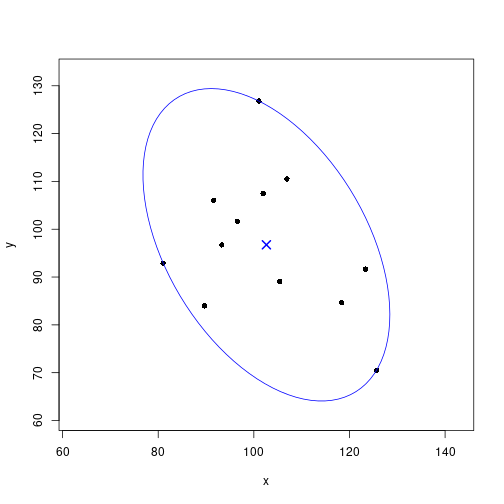 Minimum enclosing circle
Skyum algorithm based on the convex hull
Identify collinear points on convex hull
Circle defined by three points
Vertex that produces the circle with the maximum radius
Used later in getMinCircle()
Check if the angle at B in triangle ABC exceeds 90 degrees
Maximum pairwise distance between two 2D-points
Minimal enclosing circle
Draw the minimal enclosing circle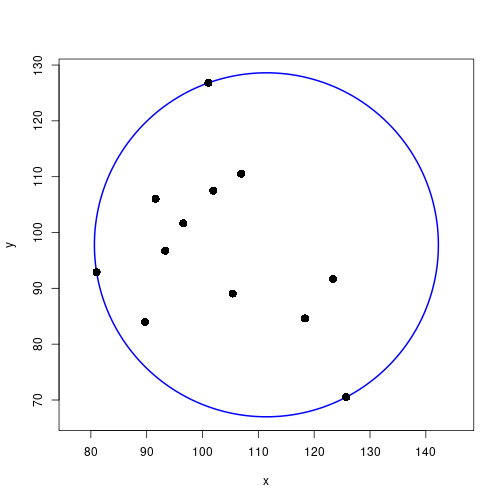 Notes
Note that the presented implementation of the minimum bounding box and of the minimum enclosing circle were written ad-hoc "to get the job done" with a limited amount of mostly random point data. The implementations are not rigorously tested for numerical stability, and are not optimized. Advanced implementations (with generalizations to higher dimensions) may be found in solid computer graphics libraries.
Fischer, K.; Gaertner, B.; Kutz, M. 2003. Fast smallest-enclosing-ball computation in high dimensions. In: Proceedings of the 11th European Symposium on Algorithms (ESA), 630-641
Skyum, S. 1991. A simple algorithm for computing the smallest enclosing circle. Information Processing Letters 37(3), 121-125.
Toussaint, G. T. 1983. Solving geometric problems with the rotating calipers. In: Proceedings of the 1983 IEEE MELECON. Athens, Greece: IEEE Computer Society.
Welzl, E. 1991. Smallest enclosing disks (balls and ellipsoids). In: Maurer H. (eds), New Results and New Trends in Computer Science 555, 359-370. doi 10.1007/BFb0038202.
Todd MJ and Yildrim EA. On Khachiyan's Algorithm for the Computation of Minimum Volume Enclosing Ellipsoids. Discrete Applied Mathematics 2007: 155: 1731-1744. PDF
Get the article source from GitHub
R markdown - markdown - R code - all posts